Rebuild Your Smile With Dental Implants
Posted by Brian K. Higgins, DDS on Oct 17 2019, 09:34 AM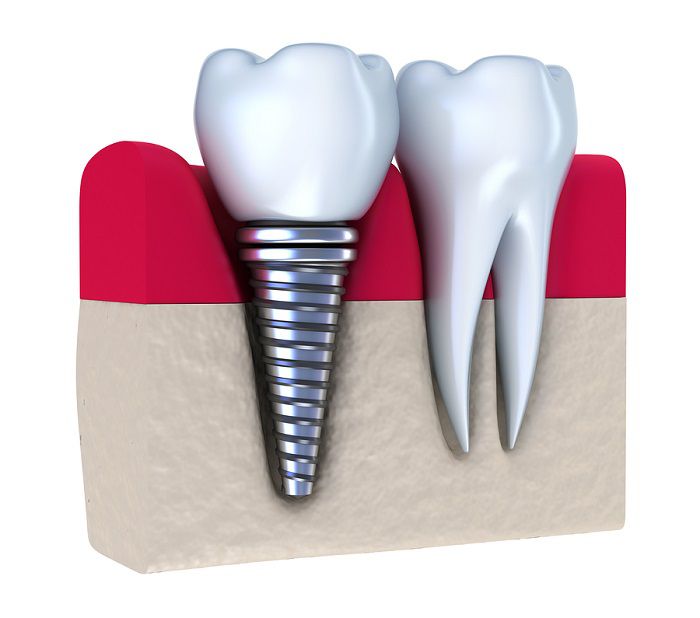 Missing teeth could lead to a lot of dental problems such as spacing, overcrowding, unnecessary gaps to mention a few. If your teeth have been missing from its socket for quite some time, it's about time to get it replaced. Today, there are several restorative methods available that can help replace your missing teeth such as bridges, partials, dentures, out which implants are the most popular teeth replacement strategy. Dental implants can restore your missing natural roots with artificial roots and replacement teeth structures. Consult with your Saratoga restorative dentist, Dr. Higgins for dental implants today.
What are dental implants?
Dental implants are titanium built artificial tooth roots that are designed to replace missing natural roots. These implants can be surgically embedded into the jawbone and sealed with a teeth replacement restoration (resin or porcelain crowns). They are capable of replicating your natural teeth. The titanium implant offers strong anchors to hold the replacement teeth in place.
Who are the ideal candidates for dental implants?
Patients who have healthy gums and good jawbone strength to hold the implant in place would be the ideal candidates for dental implants. In case your jawbone has shrunk and hasn't developed enough, your dentist would suggest a bone grafting procedure which is a method of adding new bone to the jawbone. 
What is involved in getting dental implants?
The dentist would carefully examine the patient's oral cavity by taking necessary X-rays of the mouth and jaws. This would give the dentist an idea of how many teeth need replacement and whether any teeth require extraction. It takes two separate visits to the dentist's office to get implants. During your first visit, your Saratoga dentist, Dr. Higgins, would perform a surgical procedure to place the implant in the jawbone. The gums around the implant would be sutured and allowed to heal. While the gum tissues are allowed to heal, the implant would automatically bond with the jawbone and attach itself to the gums. During your second visit, the dentist would carefully examine the healed jawbone and remove the stitches surrounding the implant. An abutment would be attached to the implant which is a post that supports the implant to the restoration. Your Saratoga dentist Dr. Higgins would design a custom restoration that would be connected to the abutment to serve as the artificial tooth. The restoration is generally a dental crown that may be of composite or porcelain material. 
How can you care for your dental implants?
Although implants are artificial replacements to your missing teeth, they are designed and made to look and act like natural teeth. It is essential to keep your replacement teeth clean by brushing and flossing them regularly. Your Saratoga restorative dentist, Dr.Higgins, advises proper oral hygiene tips to keep your implants clean and functional. 
Replace your missing teeth immediately to prevent the chances of spacing, gaps, or shifting of teeth. Consult your Saratoga dentist, Dr. Higgins, today by calling our office or requesting an appointment online for the solution to your missing teeth.